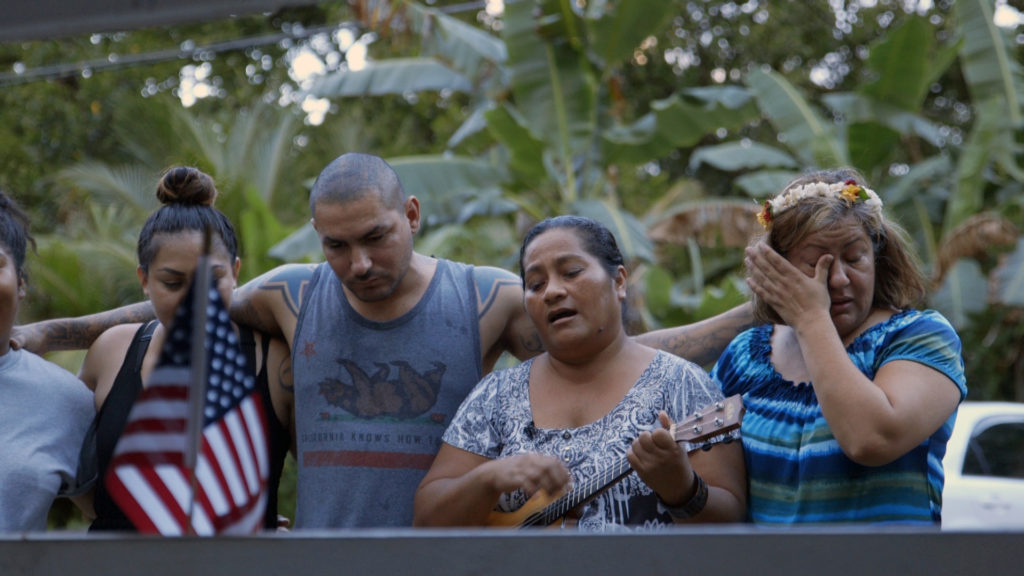 Wind chimes made of shell casings, a sepia toned desert, and the lush greens of an island. Images throughout Nathan Fitch's film, "Island Soldier," a documentary on Micronesians serving in the US military, are at once crisp and remarkably beautiful, and yet, like the stories it tells, they are also incredibly heartbreaking.
Nathan, a former Peace Corp volunteer who used to be posted in Kosrae, reached out to me over a year ago as he was going into his production of the film. Initially, I had my misgivings. Films about Micronesia tend to be skewed to the perspective of foreigners – I've seen many films where we are talked about, rather than given a voice. However, Nathan's film is one of those rare gems that takes a subject matter and illuminates it for the audience, with little opinion or bias shown. Nathan's own voice, notably, is absent from the entire film. Rather, he allows the families, the soldiers, and the imagery surrounding them to tell their stories. To get a preview of the film, watch the trailer here: https://vimeo.com/203928301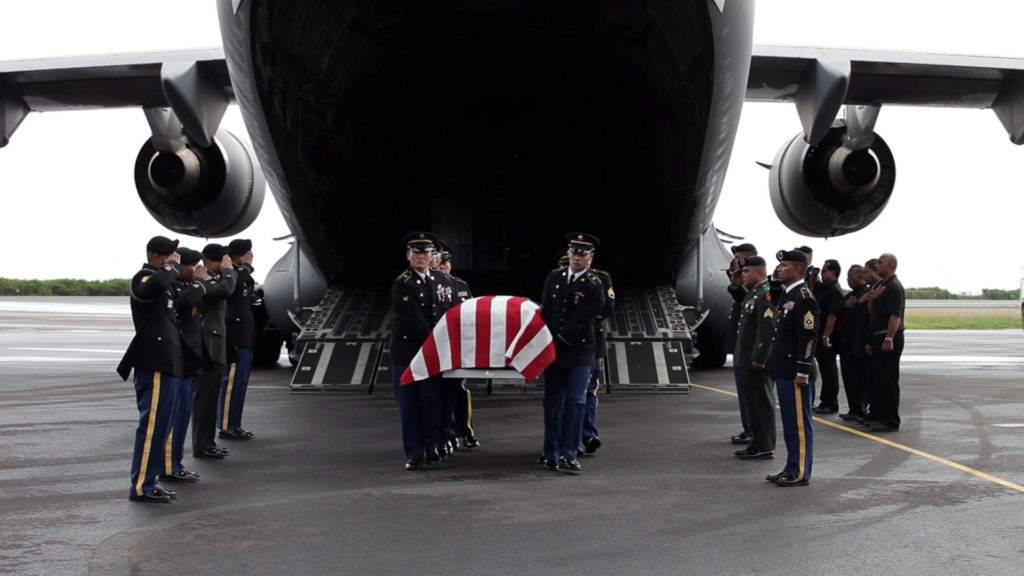 The film begins with a soldier's body in a coffin returned home to Kosrae. Sapp (we are only given first names) was a young man deployed to Afghanistan before being killed in service. The camera follows the coffin as it is driven from the airport to his home, where it is shaded beneath the greenery of trees and crowded with family members in black beneath a tent, waiting. His body is lowered into a grave amidst the wails of the women of his family. It was gut-wrenching from the beginning, and hard to watch. For me, it was also familiar. The overflowing funerals of black, the tents and the plastic chairs against the backdrop of an island – this could have been my family, my home.
The film not only follows Sapp's family, as they process and grieve for him, but also the stories of other families that are either following a parallel path, or a path that intersects. Other characters include Madison, a church pastor who helplessly watches as his son, Arthur, leaves to join the military. Kilfrank, a Kosraean sergeant from San Diego, leaving his own family and getting ready for deployment. And Mario, Sapp's good friend who served alongside him, who journeys to Kosrae to meet and come to peace with Sapp's death.
The story seamlessly moves through these different stories, layering crisp shots of underwater spearfishing and WWII tanks covered in coral, soldiers packing for deployment, fanta soda cans outside of a tank, rain on tin roofs and coconut trees, empty gas stations with "closed" signs, towels that look like hundred dollar bills on clothes lines, and beat boxing military cadets.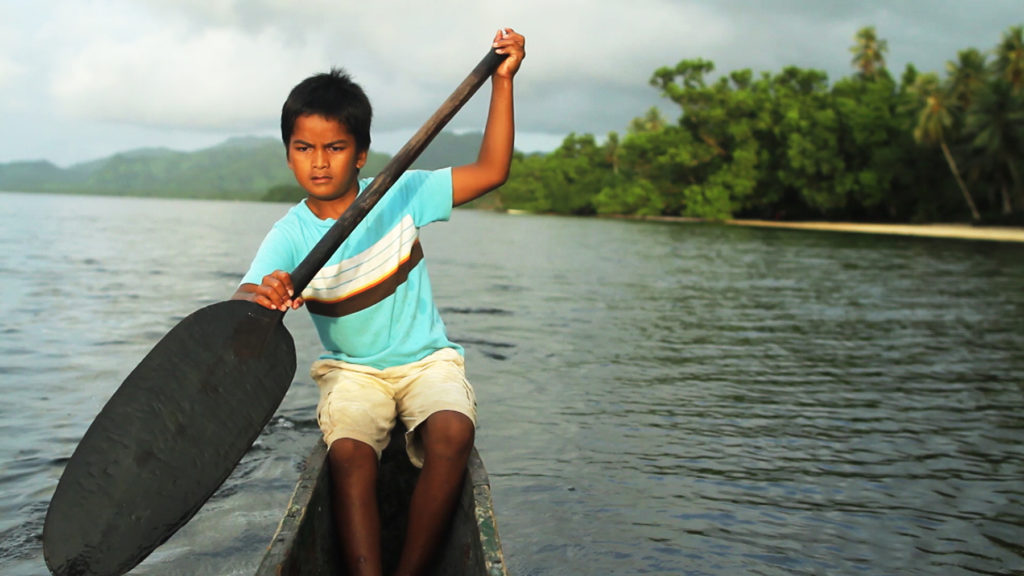 I came into the movie wondering how Nathan would toe the line between sharing the story of these families – would the result be a military recruitment video? Would it be a sharp condemnation of the militarization of our islands?
The answer is that it's neither. It's a sympathetic look at why so many Micronesians join the military, and how they survive and deal with the fallout of that experience.
To be honest, I craved a good, hard condemnation. I have family members and friends who have returned from the military with severe PTSD. Our own islands have witnessed the negative effects of militarization through the legacy of nuclear testing, and through the continued land lease of Kwajalein for a military base, and I've been involved in anti-militarization actions back when I was attending UH Manoa. I do have concerns that those with less of a critical eye will only see the benefits, the large house, the paycheck, the good aspects of serving the military, the hero honored. But the stark reminder of Sapp's death hangs in the background, the family members he left behind. And perhaps the most severe condemnation the film gives is aimed at the veteran's benefits, or specifically the lack of – which, considering everything Kosrae has given, and hasn't been given, was especially infuriating to learn more about.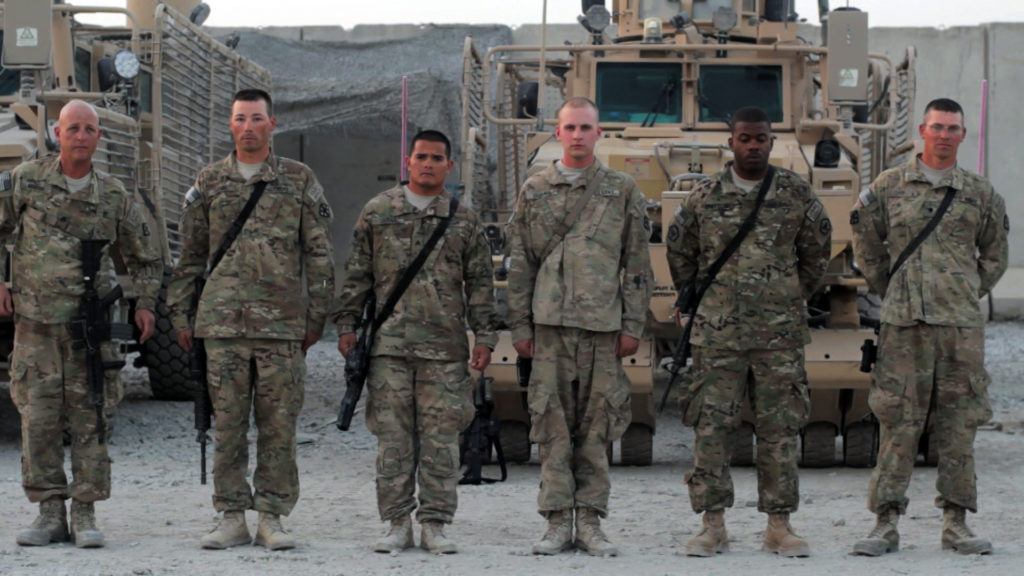 This was a tough film to watch, but it was also beautiful and tender. I was frustrated with how often I found myself crying. I enjoyed the scenes of Kosrae, an island I've only seen through its airport when I island hopped from Guam to Majuro – which was similar and yet so different from home. I also enjoyed the scenes that took place in Afghanistan, amongst the soldiers – it was a window into an experience that I haven't seen, especially from the perspective of an island soldier.
Overall, I would say the film is a worthy experience to be undertaken – mostly to witness the crisp storytelling and the moving montage of these soldiers and their families' experiences, so different, yet so similar to our own families back home.
Island Soldier will be screening Nov 3rd and 5th at the Honolulu International Film Festival (screening info here), and in New York City at DOC NYC on Nov 10th and 11th (screening info here).  If you need other perspectives, specifically from other Micronesians, you can also read other views of the film from my favorite Micronesian news team, the Fourth Branch. Here is the written review: http://www.tfbmicronesia.com/articles/2017/10/31/film-review-island-soldier-3 and filmed reviews from Yu Suenaga: https://www.youtube.com/watch?v=1JVZ80kpzRI&feature=youtu.be from the team: https://www.youtube.com/watch?v=K3jH2WtADXI&feature=youtu.be