When I was initially approached by my friend (amazing scholar and writer) Greg Dvorak to join the Honolulu Biennial, I agreed but with reservations. The Honolulu Biennial Foundation's mission statement proudly proclaims its support for local arts infrastructure with a global outreach by presenting an arts festival – the Honolulu Biennial. Greg told me all the huge names that would be included in this festival – internationally acclaimed artists – most of whom I've never heard of nor met.
My world has so far been limited to my Marshallese community based in Majuro, Pacific writers and scholars (mostly based out of University of Hawaii), and lately a smattering of figures involved in climate change advocacy. This world has so far not included the arts. And I barely think of myself as an artist, either, though I love everything there is about art. But Greg convinced me that this was a new avenue that my poetry could enter – a new audience that had so far not been exposed to my writing or performances.
So with some trepidation, I agreed. We only had a few months to conceptualize and put together an idea for my installation. Since this was my first one, we agreed to keep it relatively simple: flat screen videos, showcasing me performing a poem. We were even going to have me perform an old poem.
And then Trump
Then Trump won. And like many of my circle, I was devastated. I was particularly devastated because he won as I was flying to Morocco for COP22 to participate in the climate negotiations. He won as I was making plans to relocate from the Marshalls to the state of Oregon to support my partner's new position and to being pursuing my phD. I wasn't excited about leaving home and going into the belly of the beast. While my friends marched in the women's march, posted article after article about the atrocities of Trump, I stayed in my room with baby and netflixed to get the numbness out.
Luckily, this Biennial provided the perfect avenue to channeling some of that fear and anger. Specifically after I saw that the first executive order from Trump focused on dismantling Obamacare.
On Healthcare
Disclaimer: I'm not an expert on healthcare. But I do know that a huge chunk of Marshallese and Micronesians migrating to the states are doing so to pursue better health care. Our hospitals back home lack the infrastructure, the expertise and even the supplies we need to take care of ourselves. While we have some of the highest rates of diabetes in the world, we don't even have a dialysis machine that's needed for patients with diabetes to survive. While it's been proven that statistically we have high cancer rates as a direct result of the US nuclear weapons testing program, we do not have any cancer specialists or cancer treatments available to us on our own island. So many of us are moving to the states sick. And considering the legacy of nuclear testing and colonialism – I would say these sicknesses are not entirely our fault. We need help.
And yet, we have been coming into the states and finding a hostile environment – unwilling to support us in our need. Hawai'i, specifically, has tried and tried again to take away Micronesians' access to healthcare through systems like Basic Health Hawaii. The bill we've given the states is too high, and we are consistently seen as a burden.
I reflected on all of this. My fears for so many Micronesians who are registered under Obamacare, who rely on this package to stay alive, literally. I feel, admittedly, a little resentful.
Time to write
So I got to writing about it. The original proposal for the installation was entitled, "Islands Dropped from a Basket." This was taken out of a line from my poem, "Tell Them" which we were going to use originally for the video installation. Instead, I decided to write something new to respond to my fears about Trump, the resentment I have about our numerous issues with accessing health care in the US, and link it all to baskets and a legend about a giant who dropped islands from his basket.
Back at home, I noticed that whenever we visited one of our neighboring atolls, we were greeted with baskets of food – baskets that were usually a specific type of basket called a banonoor. I wanted the exhibit to ask – what are Micronesians and the US offering one another? What is baskets have we brought to each other?
I looked up the legend in an old standby, Jack Tobin's "Stories from the Marshall Islands" (my personal favorite collection of Marshallese legends). I wasn't sure what I was looking for but I knew it was some legend about a giant who dropped islands from his basket. I found "Laio, The Demon Who Stole from the Atoll of Majuro" –a decidedly different legend from what I envisioned. It wasn't just a giant who stole, but specifically a giant demon. In the legend, the demon came to Majuro to steal food and was caught by a man. Startled, he drops 5 islands from his basket (Aur, Maloelap, Wojja, Aelok, Utrik – Aur happens to be one of my home atolls and is also the current atoll that my mother is senator for). Anyways, the demon drops the islands. Then, the demon and the man exchange names – the demon's name is Laio, and the man's name is Lade. And now they knew each others' names (a significant moment). Soon after, the Irooj (the chief) of Majuro gathered the people to ask if anyone saw the demon. When Lade raised his hand, the Irooj asked if he knew the demon's name. And when Lade said, "Laio," the demon heard him all the way from the north where he lived deep in the sea. And Laio rose from the ocean, walked to Majuro, and ate Lade.
That's sorta the end of the legend. There's also a bit about the frigate bird who flies around from then on and keeps people safe from the demon. But what I drew on for the installation was several elements: the demon, the basket, the islands, the act of speaking each others' names and the consequences of betrayal.
My immigrant experience growing up was shrouded in silence. I was told not to participate in protests (mostly for my safety) and experiences with racism amongst our community was whispered about over a dinner table. I connected the lesson of the story, that Lade should never have spoken the demon's name, to my experience of growing up, being told to stay silent, to stay under the radar. The poem I wrote ended with the warning, the lesson learned from the legend, "The demon won't eat you/if it doesn't hear you."
Islands from a basket
Now. Putting together the installation. I had a vision of a room filled to the brim with banonnor baskets. Inside the baskets would be photos of nuclear testing, the Compact of Free Association agreement between the Marshalls and the US, and articles about our issues with accessing healthcare. Delivery of this vision, however, became an entirely complicated matter in and of itself.
Getting coconut leaves in Hawai'i, it turns out, is very difficult – which is incredibly ironic considering the fact that it's an island. I mean, coconut leaves are in absolute abundance out here in the Marshalls – we barely have to think about where we need to get them. Luckily, through facebook, I was able to find an incredibly kind Hawaiian uncle who was willing to help me get coconut leaves, and was even interested in helping us weave. My friend Lia, an avid Chamorro weaver from UH also got coconut leaves off the UH campus (ninja style). Transportation was worked out through two other friends with a truck and a station wagon.
All of these good Samaritans (I suppose you can call them that but it's probably more accurate to just call them awesome friends) were interested in learning how to weave the Marshallese basket – the banonoor – that we were creating for the installation. The weavers who agreed to weave the baskets and to teach us were Marshallese women were living at the RMI embassy – thanks to my cousin who linked us. What it all turned into (that I wasn't expecting) was a little workshop between friends from Hawaii and Guam and Marshallese women – people who might not have met without this project. We exchanged names, stories, and even different styles of baskets. Which reminded me of the legend again – the islands that dropped from the basket.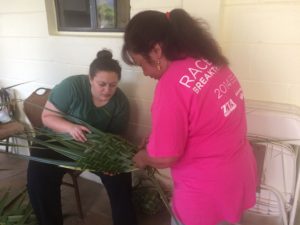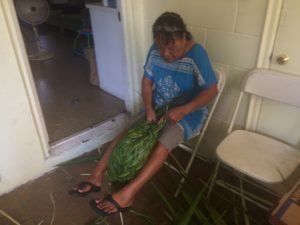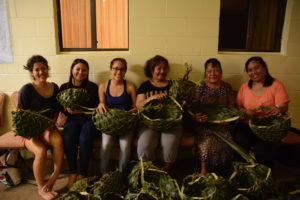 Let's say that the demon from the legend is Trump and his administration (obvi) – stealing from our lands. The islands that were dropped from his basket could be represented by the connections made during these workshops. We create new lands, new spaces, when we startle the demon, when the demon is caught. And this was so valuable for me to learn.
It wasn't just the connections from the workshop – it was also an artistic exploration I hadn't tried before. Through a collaboration with my good friend Jocelyn, an amazing poet and also skilled makeup and special affects specialist, we took the concept of the demon and we ran with it (like really ran with it – like we sprinted.)
We, alongside my friends from the Fourth Branch Yu Su and Russell Thoulag, pushed the poem video in a direction I'd never dared to explore before. In a sense, we discovered a new island.
The islands that were dropped from the basket became the community and connections that were deepened during this experience. And all of that came from a place of anger and resentment about an issue facing my community. Or maybe I should say the anger fueled it but beneath that anger is really love. Love for my community, for our survival.
So here is the full poem that was written for the biennial, along with the video:
Islands Dropped from a Basket:
A Letter from a Micronesian Daughter to Hawai'i
I.
In the hospitals back home
the wards are always full.
The night I brought my daughter
the ward was filled with coughing children
cramped into incubator newborn sized beds.
Those too big
slept on cardboard boxes on the floor.
"The worst part
isn't hearing the rats
running outside the doors.
The worst part
is listening to the other patients
crying
in pain."
II.
My friend's job here in Hawaii is to register other Micronesians for health care
"We helped a girl here once –
she was sick but afraid to go to the ER.
She didn't know if she had health insurance
and she was worried about
the discrimination."
One woman took her mother to the hospital and
the nurses treated them well until they saw her mother wearing
a Chuukese skirt.
III.
In Oregon, my cousin also helps register Micronesians for healthcare
He told me about a Bikini Islander –
who was a baby when his family was forced to leave their island
for the US nuclear testing program.
This man's parents grandparents siblings
all of them
died from cancer.
And now he's in Oregon
for cancer treatment
but was disqualified for years
due to state issues with health care.
My cousin asks me,
"Did you know
they sang
all the way to the ship
the day they left their island?"
IV.
There is a legend of a giant demon named Laio
who lived deep in the ocean in the north.
Laio would rise from the sea, as tall as coconut trees, and walk
to the island of Majuro.
There, he would steal pandanus, bananas, and taro
place them in his basket
and walk back to his home in the sea.
The third time Laio came to Majuro he was spotted by a man
and, startled, he accidentally dropped 5 islands from his basket.
"My name is Lade," the man said.
"My name is Laio," the demon said.
Later the Irooj of Majuro gathered the people
and asked if anyone saw the demon
who stole from his land.
Lade raised his hand.
And when the Irooj asked what the demon's name was
Lade said,
"Laio."
And from the depths of the sea Laio heard his name spoken.
Laio rose from the ocean
walked to Majuro
wrapped his giant hand around Lade
and ate him.
V.
"Trump issues Executive Order Scaling Back Parts of Obamacare"
"Trump's Health Nominee Think the Poor Should Pay More for Health Care"
"The Trump administration is considering a plan to weed out would-be immigrants who are likely to require public assistance, as well as to deport — when possible — immigrants already living in the United States who depend on taxpayer help."
VI.
Here is a basket from home.
Bowls of unplugged wires, fatal diagnoses
wrapped in aluminum foil, bottled
fetuses unearthed from the field outside, children
woven into pandanus mats, grandmothers chewing
cardboard box floors.
I came to you with greasy demons gorging
themselves on my insides, rats scurrying
through loose floorboard eyes.
In turn you, Hawai'i, gave me a sterile basket
of slow shoe shuffles, preserved fruits of disbelief,
peeled and pounded suspicion. A flat-line heart
baked in stone.
You must think we came here to borrow
your arms piss from your kidneys
pull your feet on for shoes
to walk in your white coat grin.
But all we wanted
was seedlings
to take back home.
You should know
The thieves
were once in our land too.
They sucked the marrow from our reef
cracked open our sun
roasted our stories over a spit.
And, like you, we bled out our own children
for them to feast on.
VII.
When I moved here, six years old
I was warned:
never name names.
Always
whisper.
The demon won't eat you
if it doesn't hear you.