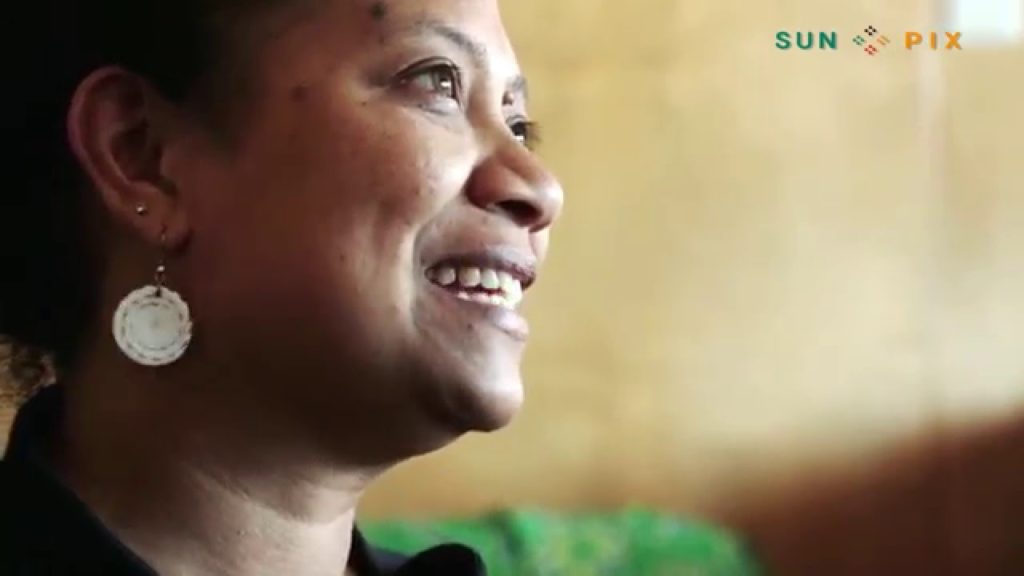 Poet and scholar Teresia Teaiwa passed away last week. She was a mentor and a teacher to me and and as a fellow Micronesian her writing has influenced and guided so much of my work – but more than anything she was just simply an amazing person and friend.  She was her work and her writing, but she was also a generous spirit. And her loss is sending a wave of mourning across Oceania.
I found Teresia's work when I was attending Mills College in Oakland, California. At the time, I didn't even know where to look to find scholarly writing on the Pacific by a Pacific Islander. She was the first Pacific scholar I ever read. I read her paper, "Bikinis and Other S/Pacific N/Oceans" and immediately loved it. She wrote about Marshall Islands history and struggle with nuclear testing, and connected it to the erasure of our history through the bikini swimsuit. It was powerful. For the first time in a while, I felt seen and heard.
When I met her in London for the Poetry Parnassus Festival about 2 years later, I nearly foamed at the mouth and totally fangirl'd over her, shaking her hand and telling her how much I loved her work, how important it was to me. And Teresia, being who she was, immediately welcomed me with open arms – with warmth and humility. For the rest of the trip she watched out for me, inviting me to walk with her to the festival, checking in on me when I was sick, talking me through my concerns as the baby islander poet  of the group.
Since then I reached out whenever I wanted to pick her brain on various issues – and she never failed to support me when I needed it. She was the one who called me out on the factual error in my "Dear Matafele Peinam" piece I performed at the UN. She also helped shape my understanding of the climate movement from an indigenous islander perspective.
It's been over a week, but I'm still in shock that she's gone. That I won't be running into her smile at conferences and meetings across the Pacific. That I can't casually message her to say hi, or feverishly request a skype call for some issue that I can't understand. She left so soon, so suddenly. I think, honestly, I was in denial while she was ill, and didn't want to imagine that she wouldn't make it. And now, it's too late to say goodbye – to tell her how much she meant to me.
Usually I write for a cause. This time I wrote to process my grief.
Below are the beginnings of mourning poems that I'm sure will continue to come.
If you'd like to learn more about Teresia's work, I'd recommend this open sourced bibliography that has most of her works. I know that for myself, I'll continue to read her writing over the next few weeks. It's a small comfort that her life lives on in her writing, and in all the students she mentored and taught.
Poem 1
Dear Teresia,
I want to mourn you the Marshallese way
I want to arrive at your house, your front yard covered in white stones
I want to wear black, sit at a plastic chair
and talk story with my cousin until our group is called inside.
I want to kneel on a jaki – your body
in a white coffin covered with wreaths of woven flowers your
family members in sunglasses and suits. I want us to sing
"Ne ej kur," all guitars
and harmony.
And after we pray I want to drop a dollar in a basket, run
my hand along your casket, walk
through a line of your husband, sons, sisters, your closest family
I want to hug
each of them
enfold their hand
in mine.
And when we enter the sunlight outside
I want to be handed a plate of shoyu chicken and rice
and a  ziplock of sandwiches, tonaj, and muffins.
I want to drink an ice cold cup of koolaid
while I tell your aunty
what you meant to me
about that first paper of yours I read
about meeting you in London
about how warm and supportive you always were.
Ikonaan emij ibben paamle ne am Teresia –
I will say it broken and shy.
I want to bring bags of rice and help cook
in the back kitchen, try to be helpful, try
to be useful.
And when they bury you near the lagoon
I want it to rain
because the skies are as broken as me.
And at your eoreak I want to scatter white stones on your grave.
I want to whisper to you my regrets.
And I want your sisters to hand me bags of white soap
so I can wash myself
of this loss and grief.
Poem 2
I wonder
how do I hold back all this emotion
how do I stop this flooding
Poem 3
(written with my friend Terisa Siagatonu)
I woke up this morning wondering how much ocean
is still left in me
if my sweat and tears have wrung my body dry
from losing you
Losing you is like losing my breath
the space between us one
that I can no longer cultivate
we didn't have enough time
Every photo of your face
is time I thought I had left with you.
How seeing you in a few months felt like tomorrow
How tomorrow now feels like the ocean that refuses to swell.
I want to mourn for you in a language beyond poetry
in cloudless skies and winds that
sound like your laughter. Take my hand again,
Aunty, mother of Oceania
we didn't have enough time
Losing you is reminding me just how vast our ocean is.
How I can be swallowed by it and saved by it
simply at the thought of you.
Aunty- I will look for you in the moon, and know which way to go
by the tides you turn in me
and I will follow the currents
back to you,
back home.